It's that time of year again!
This December, The Dry Down officially turns two years old (how time flies!) and we are so grateful for those of you who have stuck with this letter and have continued to read, and comment, and participate in the Slack, and have made this into such a vibrant community and a merry and bright spot on the Internet for us (in a time when so many parts of the Internet are terrible). This year, the Dry Down moved to Substack, and while that's been an adventure on its own, we are so glad for those of you who subscribe and support us (and you still can; yearly subscriptions end at the end of this year, so if you want one of those you must subscribe before January, otherwise monthlies will still be available in 2019). You really have made it possible for this letter to continue, so thank you again. And if you subscribed to the yearly option and are still waiting on your personalized Perfume Genie survey, we are churning through the last of them this month, so be on the lookout (and please, email us at thedrydownletter@gmail.com if you have any questions or if you did not receive the survey form). Also, if you're not in the Slack, join the Slack! It's a fun time.
Last thing before we get into the guide this year (we have 4 picks each for you below) — we wanted to repeat our note last year about how to find samples. We know a lot of you use these guides to find new things you might want to try out for yourself, and we want to make it easy and affordable for you to do that. If we get one question most often at DDHQ, it is about how we manage to smell so many perfumes. The answer is easy: we sample like fiends. We do know a lot of you know about sampling and its joys, but some of you don't! So, for the briefest possible roundup: here are some tips. You can get a lot of niche samples from trusty fragrance boutiques with online shops, like LuckyScent, Twisted Lily, Aedes, Indie Scents, Arielle Shoshana, Indigo, and others. For older, vintage perfumes or designer brands, you can try the decanting shops, like Surrender to Chance or Perfumed Court, which are almost always having flash sales and curating starter packs from every era. Also, you can usually find a little dram of what you want on Ebay (authenticity is a risk; but we have both found treasures there). There are also a lot of sample swapping communities on Facebook, Basenotes, and Fragrantica, where people are flinging decants back and forth across the world like perfume pen pals. The Dry Down Slack also has a swaps channel you can check out. Another hot tip: If you go into a Sephora, you can ask for two free samples of anything, always. And lastly, and this one is important: you can usually always buy samples of scents from the perfumers directly, especially with indie brands (you may have to pay a small fee, but never too much). Go to the website, grab a contact email, and ask around. Perfumers are generally thrilled to get these requests and get their work into your nose. Now, go forth (by which we mean, please don't blame us when little glass tubes start spilling out of every pocket). And happy holidays!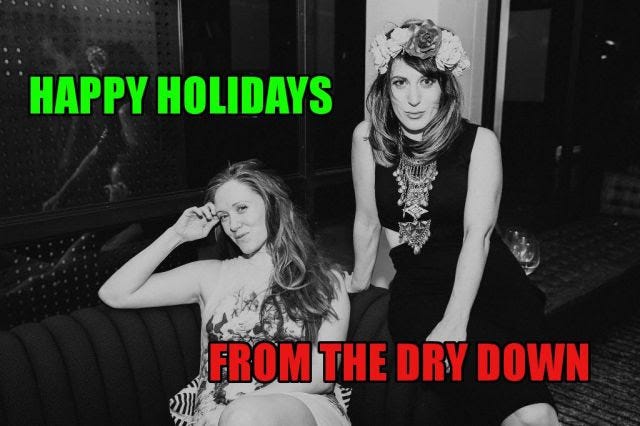 ---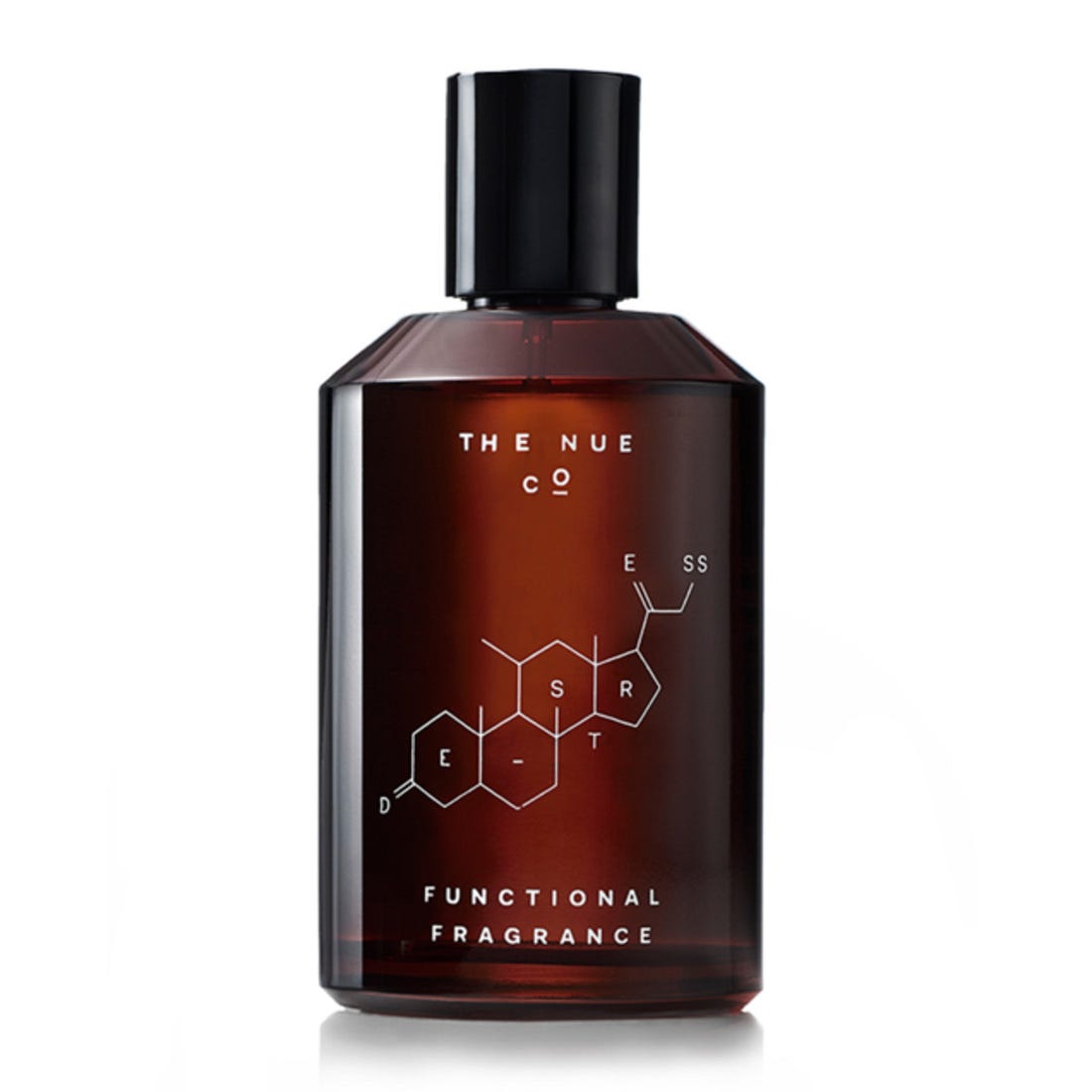 Functional Fragrance, The Nue Co.: For that person who really has their shit together (or your friend who deserves to feel like they do)
The Nue Co. isn't a fragrance line exactly, but rather a company jumping on the current trend for aesthetically pleasing health supplements. Their functional fragrance is their only perfume, and it is meant to slot into a line of wellness goods that includes probiotics, energy supplements, and sleep aids. The ad copy claims that this perfume is a de-stressing tool - the "function" in its name is that it, supposedly, brings clarity, calm, and focus. It is "designed to help you reset at times of high stress."
As you can maybe tell, I'm not a great believer in wellness products. The functional side of this scent might work as well as it claims, or it might not, who knows. What I do know is it that it smells great, and great in a very specific way that speaks to a particular longing in me, one I suspect might be shared by at least a few others: Functional Fragrance smells like a high-end beauty store. It smells like standing in the middle of an Aesop, or Le Labo, or Fresh store and thinking that you and your own home could never smell this clean, this intentional, this perfectly put together. None of the individual fragrances at those stores ever quite smell like the interior of the store does, but somehow Functional Fragrance's combination of green cardamom, violet, cedarwood, and- perhaps most crucially - very scrubbed-clean palo santo smells exactly like that kind of store. It's the scent of having everything perfectly organized, matching your toenails to your scarf to your handbag, the smell of knowing what's coming next without having to think about it. It's the scent of a room with blond wood accents and tastefully chosen, well-kept indoor plants. It's how you think sometimes, what if you threw all your clothes away and just bought six pieces that all matched each other and all really worked. If never being late to anything had a scent, it would smell like this. Buy it for the person you know who most has their shit together, or for the friend who most deserves to feel like they do, who quietly works hardest to hold all the edges in place. - HF
---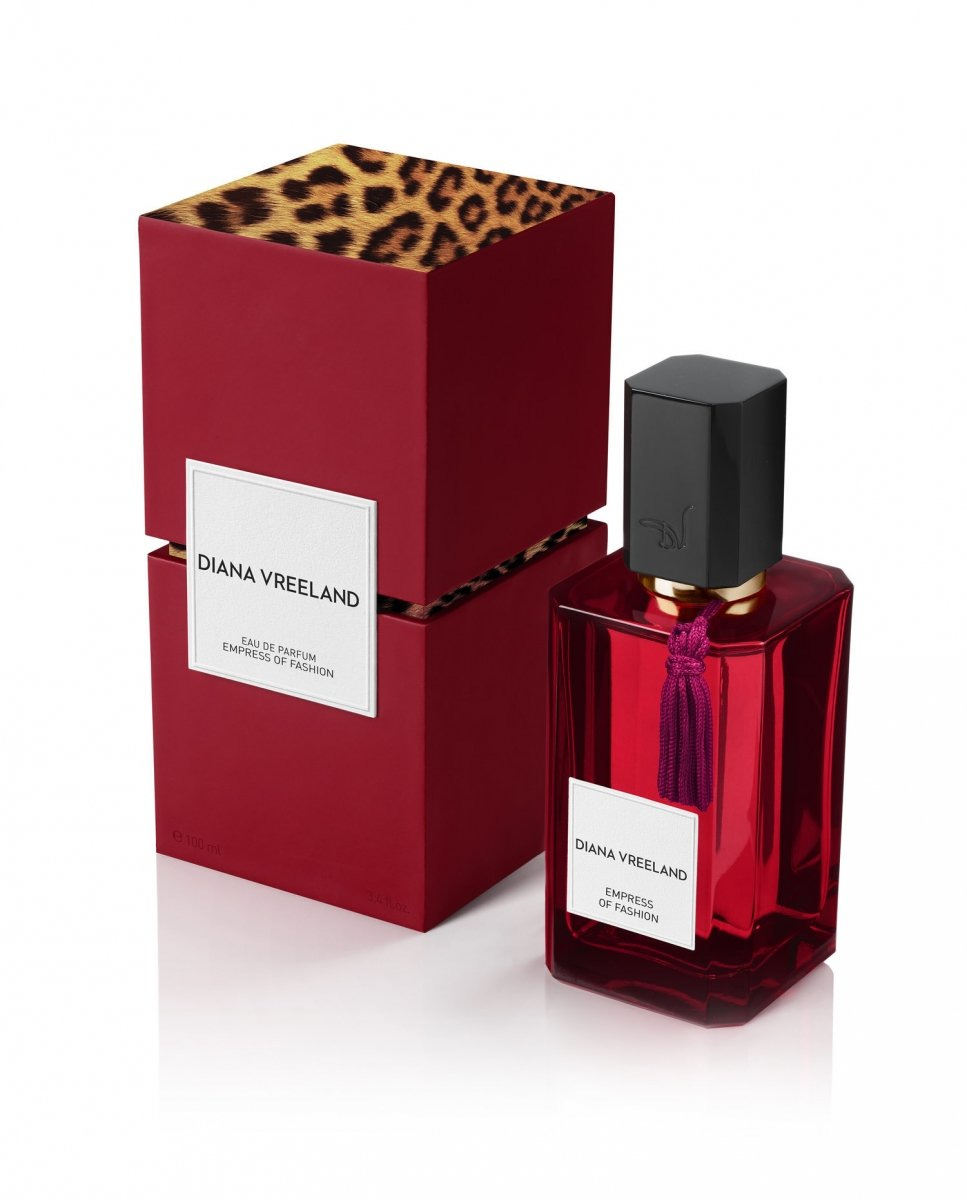 Empress of Fashion, Diana Vreeland: For the Person Who Deserves A Treat
It is important to note that Diana Vreeland, the kooky, exacting late editrix of Harper's Bazaar and Vogue magazines who is now something of a slight folk hero to women who fancy themselves eccentrics in training, had nothing to do with the line of perfumes in her name. She died in 1989, which will be three decades ago next year, and her perfume line launched in 2014; so really it's an homage collection, for which her grandson contracts top perfumers to make exuberant floral concoctions after her image, like one of those tribute concerts at Carnegie Hall where a bunch of musicians from various genres get together to cover the discography of the dead. In this case, what the perfumers are conjuring is some of her more sumptuous language, as most of the scents are named for the types of phrases she used often, like "Devastatingly Chic" and "Simply Divine." Diana Vreeland loved adverbs almost as much as she loved jaunty cloche hats and the color red, which is to say to an extreme degree. It seems that being around her might have been like being around an older, slightly deranged Eloise, which probably was in practice exhausting but is fully enchanting from a distance. She represents the sort of aggressive glamorama weirdness you want to spritz on your body, so I see why her perfume has done so well that it has its own counter at Bergdorfs. I always think about a quote from The Eye Has to Travel, the documentary about her life, in which an interviewer asks her for her fashion icons, and she does not name a person but instead says she looks to horses, because they have "a little extra pizzazz." It takes a very unique mind to run Vogue and still think horses have more style in their little hoof than any living person; but that's why she's passed into legend.